10 Technical Blogs for Data Scientists to Advance AI/ML Skills
10 Technical Blogs for Data Scientists to Advance AI/ML Skills
Savvy data scientists are already applying artificial intelligence and machine learning to accelerate the scope and scale of data-driven decisions in strategic organizations. These data science teams are seeing tremendous results—millions of dollars saved, new customers acquired, and new innovations that create a competitive advantage.
Other organizations are just discovering how to apply AI to accelerate experimentation time frames and find the best models to produce results.
Data scientists are in demand: the U.S. Bureau of Labor Statistics predicts that the employment of data scientists will grow 36 percent by 2031,1 much faster than the average for all occupations. Data scientists are also some of the highest-paid job roles, so data scientists need to quickly show their value by getting to real results as quickly, safely, and accurately as possible.
With a goal to help data science teams learn about the application of AI and ML, DataRobot shares helpful, educational blogs based on work with the world's most strategic companies. As the leader in applying artificial intelligence and machine learning to complex data problems, DataRobot technical teams create blogs that explain the opportunity to speed experimentation, deliver models into production more quickly, and improve data-driven business decisions. 
Explore these 10 popular blogs that help data scientists drive better data decisions.
Taking a Multi-Tiered Approach to Model Risk Management
Financial services customers are leading the way in creating consistent AI governance processes. Understand why organizations need a three-pronged approach to mitigating risk among multiple dimensions of the AI lifecycle and what model risk management means to today's AI-driven companies. Read the blog.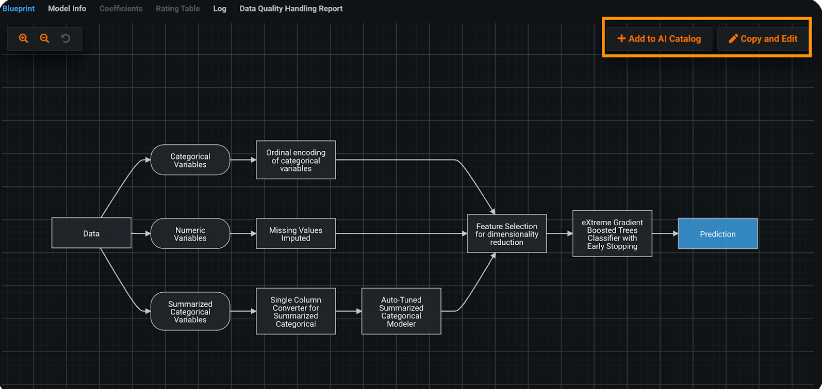 Improve Customer Conversion Rates with AI
Scaling AI-driven decisions gives organizations a faster and broader impact. In a step-by-step explanation of a relevant use case—explaining how a retailer can target the right customer with the right incentives—see how AI can improve response rates on offers like coupons by speeding and scaling the experimentation and model development process. Read the blog.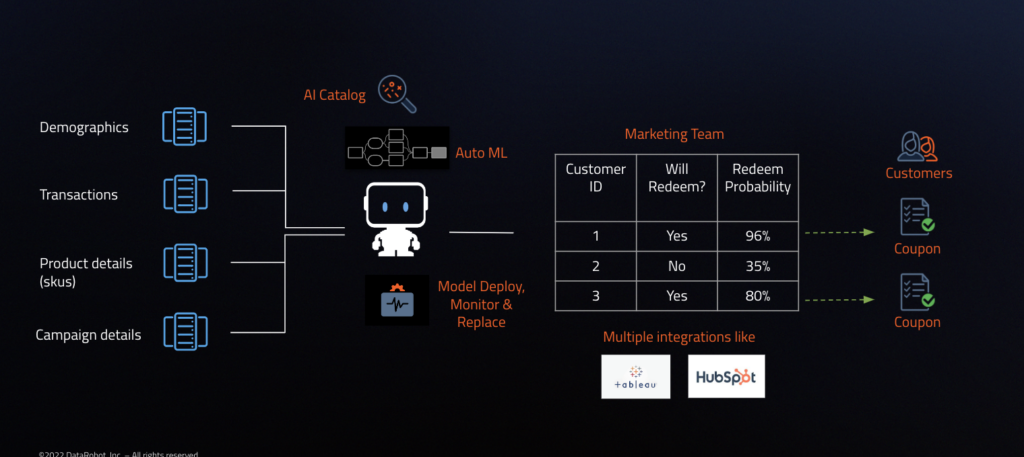 Forecast Time Series at Scale with Google BigQuery and DataRobot
New forecasting features and an improved DataRobot integration with Google BigQuery help data scientists build models with greater speed, accuracy, and confidence. Learn how to leverage Google BigQuery large datasets for large scale Time Series forecasting models in the DataRobot AI platform. Read the blog.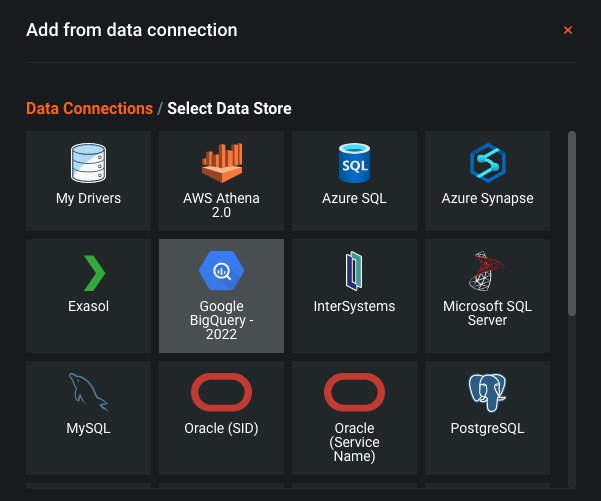 How Model Observability Provides a 360° View of Models in Production
In a rapidly changing world, how do data scientists track the integrity of models in production? See how to use DataRobot Model Observability to track service, drift, prediction data, training data, and custom metrics in order to keep models and predictions relevant in a fast-changing world. Read the blog.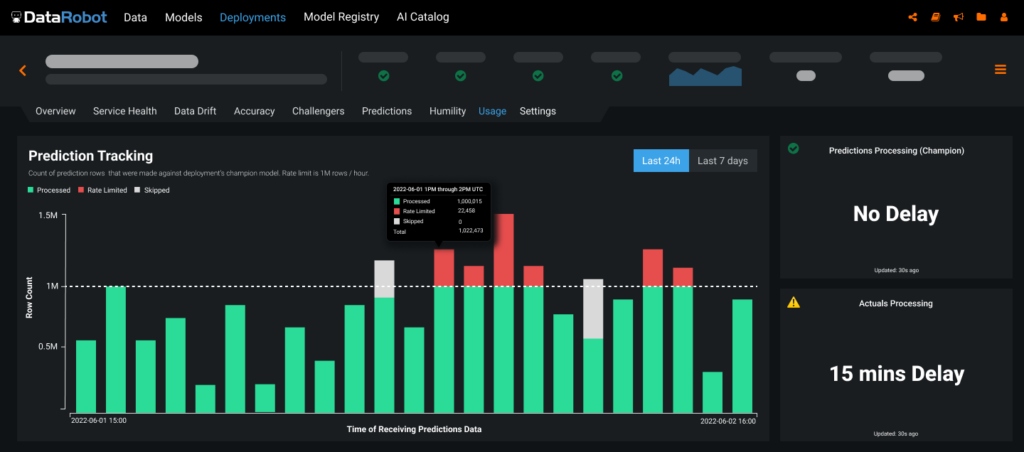 Explainable AI for Transparent Decisions
To help improve trust in AI, the DataRobot AI platform includes explainability features that show the why and the how of decisions made about experiments and models at different granular levels. Learn how to check explainability along the experiment and model lifecycle. Read the blog.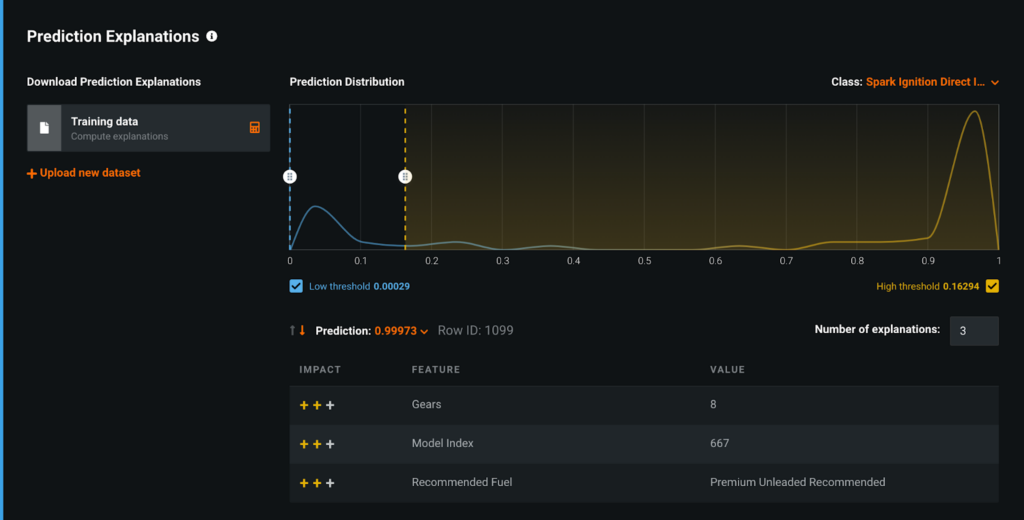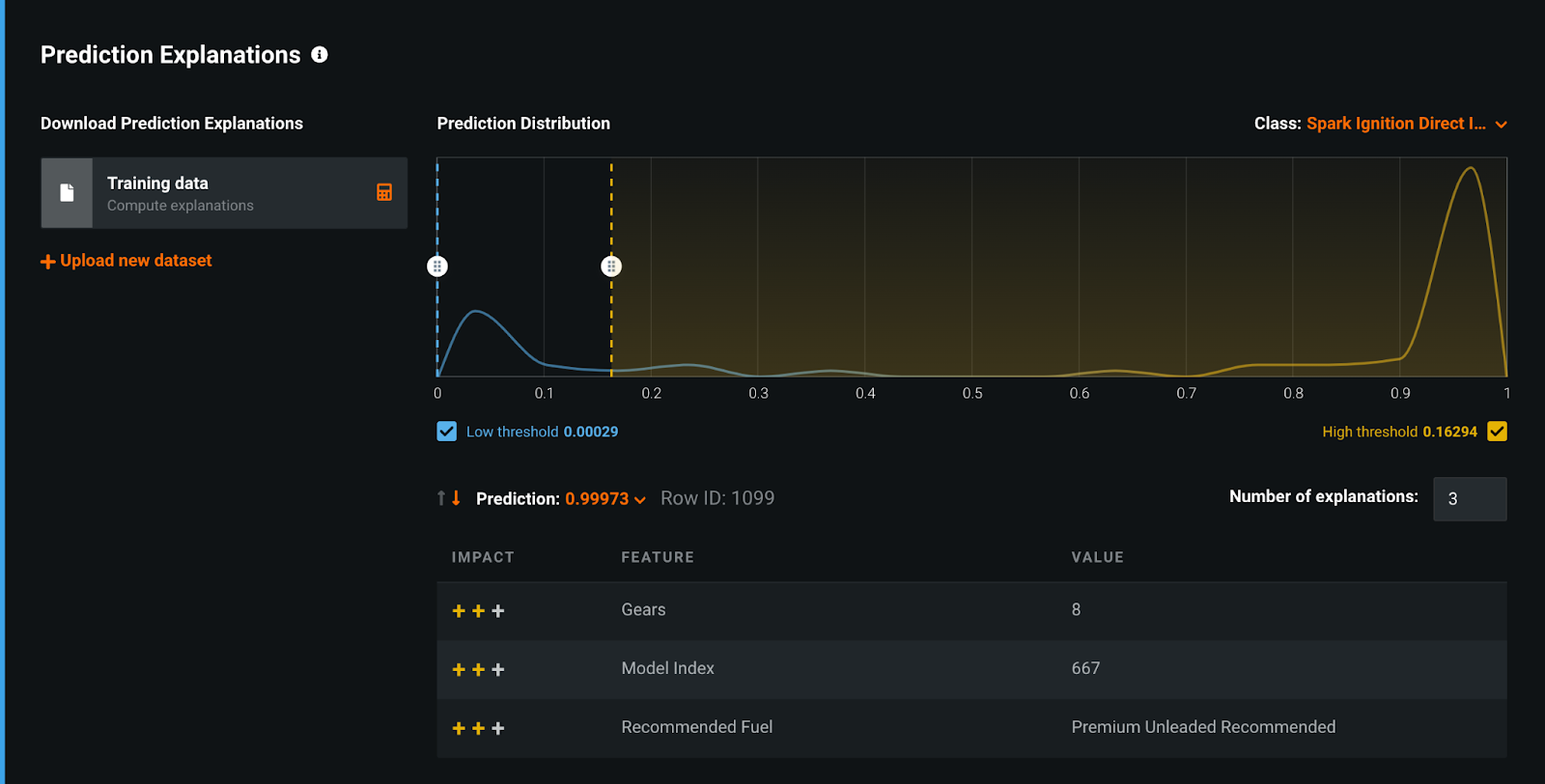 Build and Deploy Segmented Models
Create granular forecasts across a high volume of Time Series models without so much of the manual work. Product Manager Nathaniel Daly explains how to use Segmented Modeling, an out-of-the-box solution that allows users to manually define the segments within their dataset into relevant groups to more accurately predict the target by learning segment-specific patterns. For example, one can ask the model to account for "country" specific patterns while predicting sales at a "global" level. Read the blog.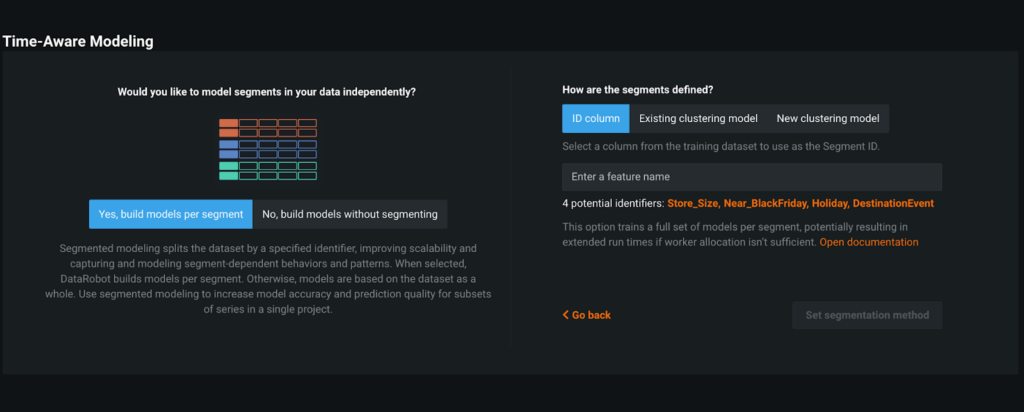 MLOps Helps Mitigate the Unforeseen in AI Projects
Data scientists are continually impressed with DataRobot MLOps features for Continuous AI and the Challenger – Champion framework. After DataRobot has determined an optimal model, Continuous AI helps ensure that the currently deployed model will always be the best one, even as the world changes around it. Read the blog.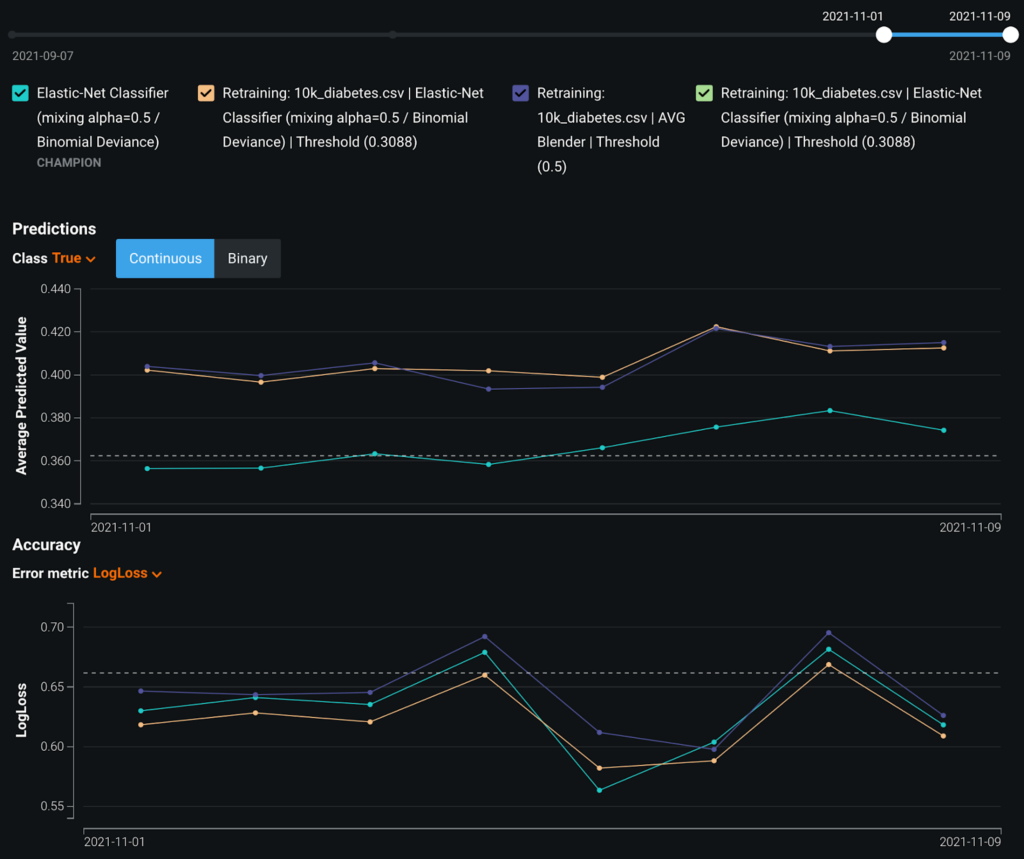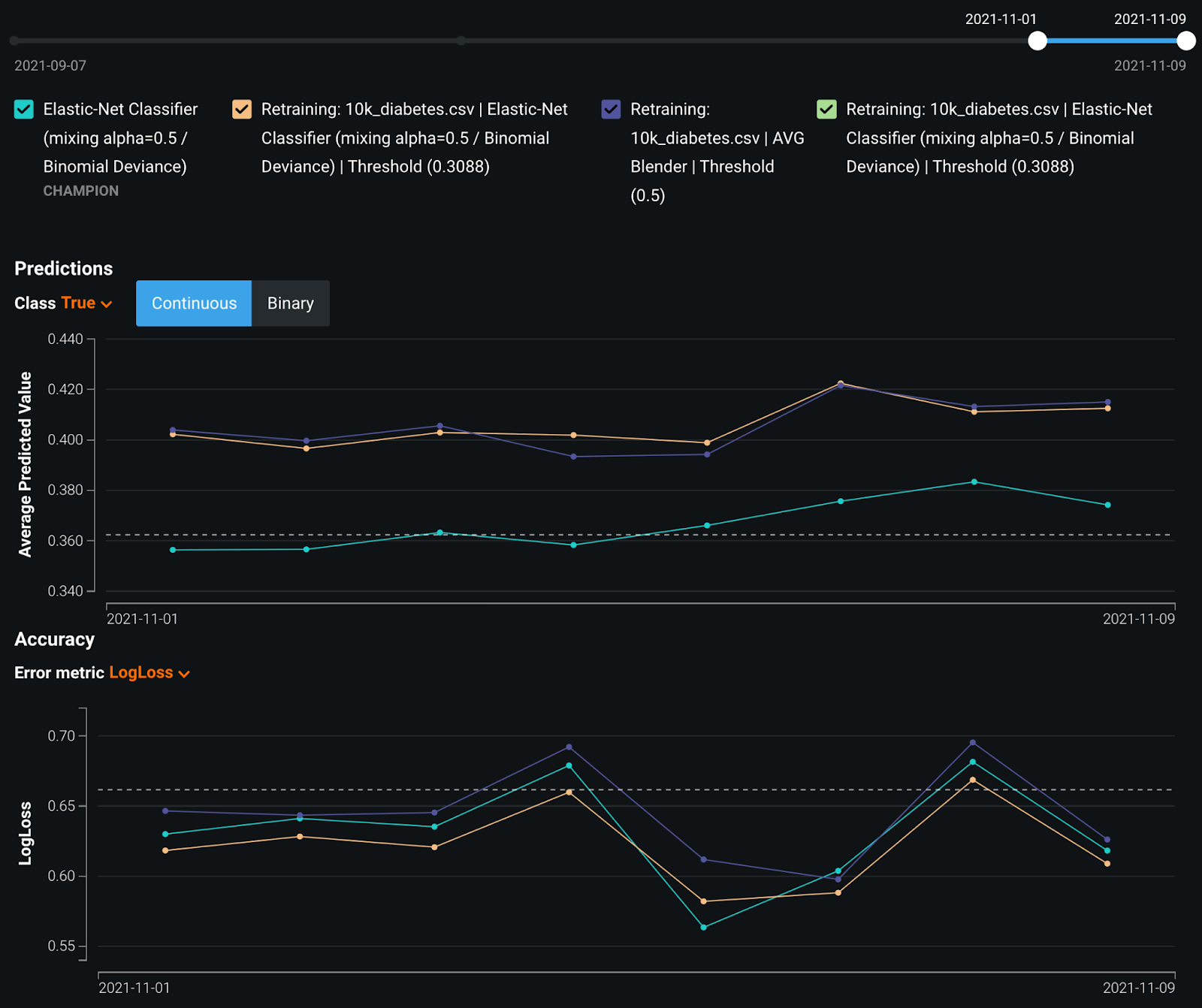 Get Creative with AI Forecasting in Changing Economic Conditions
DataRobot AI Platform offers an out-of-the-box, end-to-end Time Series Clustering feature that augments your AI forecasting by identifying groups or clusters of series with identical behavior. Time Series Clustering empowers you to automatically detect new ways to segment your series as economic conditions change quickly around the world. Read the blog.


How to Integrate DataRobot and Apache Airflow for Orchestration and MLOps Workflows
Apache Airflow orchestration provides an easy but powerful solution to integrate DataRobot capabilities into bigger pipelines, combine with other services, clean data, and store or publish the results. DataRobot MLOps and Airflow provide a reliable solution for retraining and redeploying your models on a schedule, on model performance degradation, or using a sensor that triggers the pipeline in the presence of new data. Read the blog.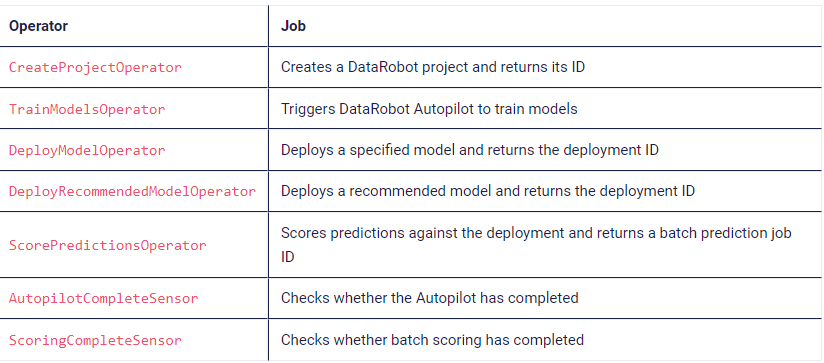 Data Scientists of Varying Skillsets Learn AI – ML Through Technical Blogs
Whether you've been using AI for several years or you're new to the concepts, explore the DataRobot blog for ideas and instruction.
Learn more artificial intelligence and machine learning tips on the DataRobot blog.
1 U.S. Bureau of Labor Statistics
About the author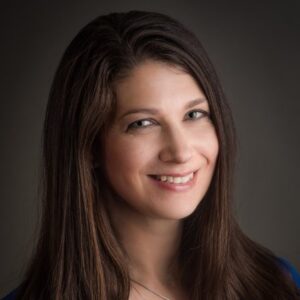 Penny Gralewski is the Senior Director of Product and Portfolio Marketing at DataRobot. With a long career in enterprise technology marketing, she has worked with customers from Fortune® 10 to SMB, plus managed marketing projects with service providers, global systems integrators, and the largest cloud companies in the world. As a data-driven marketer, she appreciates the power of AI to better connect people with useful and valuable insights that help solve business challenges.
Meet Penny Gralewski
Subscribe to DataRobot Blog
Thank you
We will contact you shortly
We're almost there! These are the next steps:
Look out for an email from DataRobot with a subject line: Your Subscription Confirmation.
Click the confirmation link to approve your consent.
Done! You have now opted to receive communications about DataRobot's products and services.
Didn't receive the email? Please make sure to check your spam or junk folders.
Close